Tiger Wood's Mistress On Reality Show on GO Sunday Night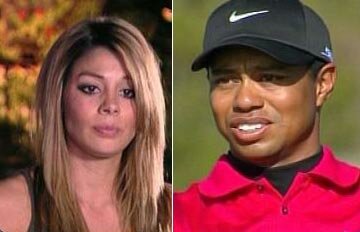 There have only been three stories in town this week, Tony Abbott becoming the new Federal Opposition leader, Nathan Rees being rolled from the NSW Premiership, and Tiger Woods being caught putting it about with an assortment of cocktail waitress, reality TV personas, and nightclub hostesses.
Why is it always the cocktail waitress? Seriously why did I go to uni when I could have just wiggled my ass and served a couple of mojito's to make some fast bucks.  Then again your probably wondering why I went to Uni and now write a reality TV blog….
Anyway GO have been fabulously opportunistic and now actively promoting what would have been low rating schlocky reality show called Tool Academy which stars one of Tiger Wood's paramours, Jaimee Grubbs.
Grubbs – who claims to have had an affair with Woods for two-and-a-half years – stars in the first season of Tool Academy, a reality show dedicated to taking the most arrogant, dishonest, thoughtless and unfaithful boyfriends and transforming them into husband material.
 Aside from Grubbs and her disinterested boyfriend Shawn, Tool Academy helps eight other frustrated women who are all dating complete "tools", including Jenna, whose boyfriend Ryan is kind and caring – until he turns into his alter ego "Matsu-Flex", a tattooed tool who feeds off the attention of other women and gets around clubs in nothing but underwear which he calls his "man panties".
 Each week therapist Trina Dolenz uses her supreme powers to detect a truly incorrigible tool and eliminate one of the contestants. Upon elimination, the tool in question gets one shot at convincing his girlfriend that he is able to change before she decides on the spot whether or not to dump him for good.
In the end only one tool will remain and win a cash prize of $100,000 – and the title of "Mr Awesome".
The show sounds totally trashy.
 The show will be on GO on Sunday night's at 8.30pm.