The Amazing Race – Meghan and Cheyne Won – Erika Had A Meltdown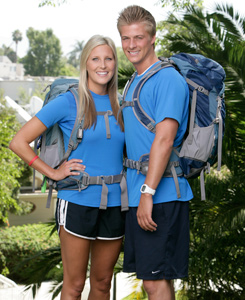 The quote of then night if not the series was when Erika was talking to camera about how her mother was not real happy that she married a white guy that by watching him on the show "they would be able to see what a wonderful guy he was". All I could do was laugh, as I am sure Brian's family would not be having the same feelings about Erika after seeing her throw tantrums and pout throughout the series.
To be honest last nights most memorable moments were given by Erika:
The Cirque De Soleil challenge mega tantrum where there were flailing legs, and crying and then the usual well you do it you are taller because it is ALWAYS Brian's fault;
Her manic smile when she realised they were in the lead thinking she was on the way to $1 million, and maybe if she just shut up while they were counting the chips they may have got the right amount;
Her death stare, with pout, when they were in the cab going to The Monte Carlo knowing they were in last place; and
Her departing line to the marrying couple in the Elvis chapel when leaving saying "marriage is wonderful".
By the way props goes to Cheyne who I have thought has been carried by Meghan for a lot of the race, for staying calm and taking control of the chip counting. Their teamwork, and methodical strategy meant they were accurate and out of there first, when they arrived last.
Bad luck to the gay guys, who came in second, but props to Wayne Newton (or was it the joker in disguise) who was gracious when they could not remember his name.
This series again showed why it is one of the  best reality shows on TV. Thumbs down to Channel Seven for moving it from its Thursday night timeslot just at the end of the season.
Here are interviews with Erika and Brian, who I did not realise were the first interracial couple on the race ever.
Here is a really good and comprehensive interview with the gay guys Dan and SamMeghan and Cheyne.