Survivor Samoa – And The Last Word Goes To Russell – Was He Robbed?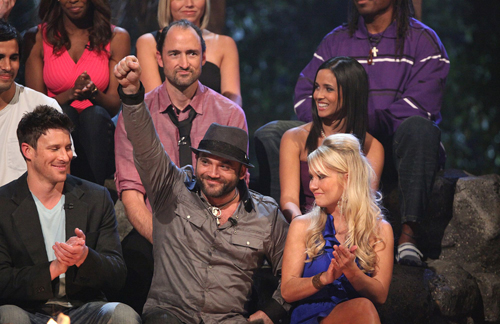 Russell Hantz was the most notorious player of Survivor Samoa, both with his aggressive tactics, and his knack for finding hidden immunity idols. He was rewarded by being cast in the 20th season of Survivor Heroes V Villains, however Russell still is miffed he was not victorious in Samoa.
TV Week have an interview with him where he gives his thoughts on being "robbed" of the sole survivor title.
Russell you looked so disappointed when you didn't win!
I had a feeling I wouldn't win, but when I actually heard [it], it shook me up. Natalie would just do whatever I wanted her to do, and she won, because of a "social game"that they keep telling me about. I was probably the best strategic player that ever played! But when I won fan favourite that took the edge off.
After the reunion show, did any of the other Survivors refuse to speak to you?
Oh, yeah. They're a bunch of babies: Jaison, Laura, Dave, Kelly….
Did you always plan to throw the socks in the fire at the reunion?
When Jaison started talking his mess about me… Just because you are a Stanford grad, you think you can outwit me, fool? You try that, I'm going to make you look stupid.
Would you really want Brett to marry your daughters?
Well, at that point I did, but now I've seen him out in the clubs. I've changed my mind.
Did you get any flack for pretending you were a victim of Hurricane Katrina?
That story happened to one of my best friends, and I asked his permission to say it. When I go to the Louisiana football games,they love me. One guy came up and said, "I'm glad you brought that up because we need people to remember."
Would you really have given Natalie $100,000 for the title of Sole Survivor?
I would have written her a cheque. She's like, "You gotta go through the process…" I'm talking about just getting Jeff (Probst) to say it. I guess she really is dumb, because she didn't take it.
Still, you'll be the one who's remembered.
[Former Survivor winner] Jenna Morasca said one time, "Nobody remembers second place." But you know what? Nobody's going to remember first place in my season.